The destination of individuals who are passionate about science and technology, Cao Thang Technical College with a 115-year history of cultivating people, is always at the forefront of education and training.
Every year, Cao Thang Technical College organizes many useful scientific playgrounds to attract a large number of their students as well as other students and pupils who want to participate in the HCM city.
Also as planned, from March 2021 to May 2021, Cao Thang Technical College organizes the contest "SOLAR BOAT CHALLENGE 2021" – as 4th time, playground for first-year students with an endless passion for the science, and engineering.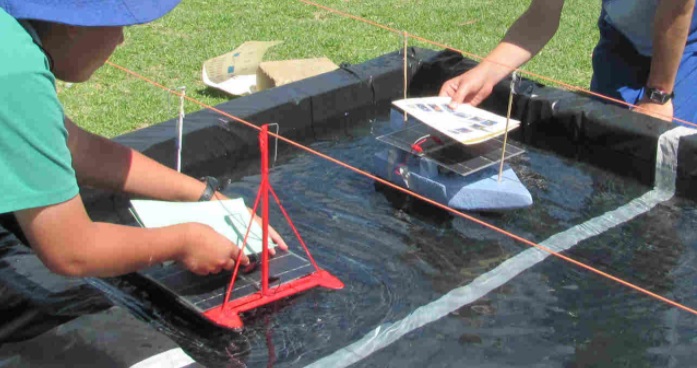 Solar boats
This is the fourth time, the contest is organized by the Department of Industrial Electricity of Cao Thang Technical College to create a useful academic playground which associates with practical training activities. Like other years, the contest encourages the spirit of learning, and creativity and fuels a fire of passion for students of Industrial Electricity as well as engineering students in general.
Photo of Solar Car Challenge in 2019
Racing teams and students took pictures in the final contest "Solar Car Challenge 2019"
Coming to "SOLAR BOAT CHALLENGE 2021", participants will be provided with basic knowledge about solar power, DC motor control, design of simple control circuit and dynamics circuit, microprocessor programming, and control programming via wireless networks such as Wifi, Bluetooth, or RF. In addition, the contest is also an opportunity for students to design, construct, test, and complete models of the solar boat with the motto "Solar energy - New development tendency in Vietnam".
Through the use of renewable energy sources and collecting waste in rivers/lakes, the contest is also a place to cultivate teamwork skills, technical problem-solving skills, and communication skills and raise the awareness of environmental protection among students and the community.
Models of the contest "Solar boat challenge 2021"
Be a freshman, and show your bravery and performance.
For more information about the competition, majors in Electricity - Electronics, Industrial Electricity, please contact:
Mr. Do Chi Phi – Mobile phone: 0906 767 308
Mr. Phan Dai Nghia – Mobile phone: 0986 457 503
Department of Industrial Electricity