Goals:
- Gathering more former students for expansion.
- Contributing to promoting CTTC traditions and pride for students.
- Establishing strong bonds and mutual support among generations of students.
- Enabling the alumni to contribute to the construction and development of CTTC.
- Organizing and participating in student supportive activities at school.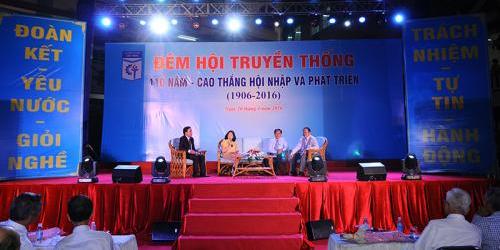 Position:
The Alumni Association is an alumni organization of CTTC established and governed by the Rector.
Functions and responsibilities:
- Collecting and archiving the data of former students (for example personal profiles or achievement records), serving the mutual support and exchange among them as well as organizing activities at school over the decade.
- Organizing the Congress of Delegates for CTTC alumni, occurring once in every 5 years. At the Congress, the delegates will report on the old term activities, the direction of activities in the new term, discuss and vote on amendments to the Regulations on organization and operation, negotiate on the Executive Committee and the Standing Committee in new period.
- Supporting the introduction of the school's development history, training curriculum and the introduction of successful individuals in different fields or vocations, supporting the editing and publication of products such as diaries, records, documents, ...
- Supporting and coordinating with CTTC students on the traditional day in commemoration of the school's establishment anniversary (April 20th).
- Providing leaders with advice on development strategy and operation, establishing program educational opjectives (PEOs); student outcomes (SOs) and curriculum for training programs.
- Organizing the anumni-students exchange in the professional field between alumni and current students; Organizing career workshops, briefing about specific professions for freshmen and senior students.
Operation principles:
- Voluntariness, democratic negotiation, activities coordination and unity.
- Organizing the cultural and artistic activities, physical training to enhance the solidarity among student groups.
- Support for internship and student recruitments.
- Support for company tours for students.
- Mobilizing scholarship funds for students or disadvantaged alumni such as the scholarship "Overcoming difficulties - Excellent study" as well as other funds of individuals and enterprises.
- Strengthening short-term training activities, on-demand training and scientific research among schools, localities and enterprises.
By CTTC