About the training:
During the school year 2005 – 2006, there had been 6 associate programs (mechanical engineering, automobile, electrical engineering, heat and refrigeration, electronics, informatics) and 7 intermediate professional education programs as well as 11 vocational jobs (currently known as vocational associate and vocational intermediate programs), compared with the year 2007, the number of majors had rocketed to 10 associate programs, which were mechatronics, telecommunications, automation and accounting, along with 10 vocational associate and vocational intermediate programs. Until now, there have been 26 branches distributed for 3 levels: associate, vocational associate and professional intermediate levels.
Student enrolment scale sees a considerable increase each year of about 5 – 10%. According to a few figures collected, during 2015 – 2016, the number of students enrolling was 6,358, including 3,268 students in associate programs, 1,026 students in intermediate professional programs and 2,064 students in vocational associate programs. The total number of the current scale is 13,439 students as calculated at the beginning of the school year 2016 – 2017.
Having earned stable training quality and long-standing reputation over the decade, CTTC has enabled graduates to be employed right after graduation and there have been 26/26 programs of the curriculum that technical companies require for recruitment.
CTTC has been cooperating with numerous enterprises to open training courses for officers and technical workers. Every year, this cooperation has provided the training to 3,000 officers or technicians of nearly 100 entrepreneurs and short-term vocational courses for 7000 learners.
Faculty development & establishment:
To enhance more achievements of teaching and learning, CTTC has organized significant training courses for faculties on different aspects. In the school year 2005 – 2006, the school had recruited 148 full – time lecturers. Until April 2015, there had been 292 lecturers, including 11 doctors, 144 masters and 137 bachelors (not including part-time lecturers). Over the past few years, CTTC has been constantly sending 25 - 30 lecturers per year to accomplish postgraduate degrees overseas. The school also has policies to attract and support lecturers who have attained Doctorate or Master Degrees.
Scientific Research:
Over the past few years, several research papers conducted within the location of CTTC have made it possible for the school to save hundred thousands of expenses on purchasing imported equipment and to modernize the curriculum according to state-of-the-art trends. Every year, Doctors and Masters are required to present their scientific reports. In 2015, there were over 90 school-level scientific reports, 3 Ministry-level experiment manufacturing reports/projects, over 40 reports on the research of designing self-made teaching models used for teaching and managing software.
The school invests about 15 – 25 billion VND each year on cutting-edge equipment and machines. Until now, a few standard modern laboratories have been set up such as: CAD-CAM-CNC lab, milling and turning machines, PLC programming control technical lab, automation lab with pneumatic and hydraulic equipment, mechatronics equipment lab, CNC wire-cutting machining and electric lightning machining lab…
Scientific researching activities of students are: annual robot competitions, funnyLED, electrical knowledge seeking… which are for the purpose of raising the awareness of exchanging experience and creativity among students.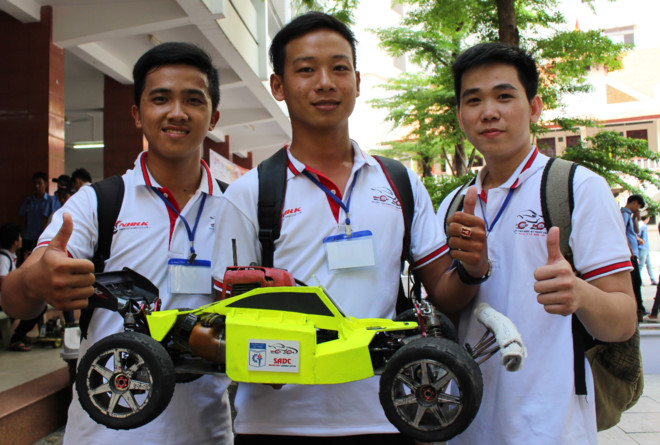 International cooperation:
During HEEAP program (Higher Education Engineering Program), there had been 78 lecturers training at Arizona State University (USA) from 2011 to 2017.
VULII project (Vocational and University Leadership and Innovation Institute) is a program aimed at developing leadership ability for school members of HEEAP program. The project provides with quarterly training courses for the school's managing board (leaders, head and deputy head of office, faculty, department). The project also organized mock visits according to ABET requirements for 4 faculties: Electrical-Electronics, Mechanical Engineering, Automation and Mechatronics.
Training cooperation with Vietnam Toyota (Japanese Company).
Training cooperation with Vietnam Bosh (German Company).
Training cooperation project with Schindler Elevator Corporation: the international training program's duration is 3 years, commencing from June 2014. Currently, there are 2 mechatronics classes CD CDT 13S consisting of 20 students and CD CDT 14s with 20 students.

Basic construction investment projects:
CTTC has completed the project of its 7-storey multifunctional building. The construction area is 1,400 square meters and the area of the surface is 16,740 square meters (including 6,960 square meters of the basement). It commenced in June, 2013 and was put into use in December 2015.
The school continues investing on developing facilities in basic construction and teaching - learning equipment.
In 2014, the City Council sanctioned on designating another campus of CTTC to university zone in Long Thoi Village, Nha Be District with an area of 10 ha to construct training campus.